Posts in the 'Video' Category
I've had my head down lately, working hard on a number of projects, so I haven't done much posting to the blog, but this put a smile on my face so I knew I had to share it.
Alexander Chen, Creative Director at Google Creative Lab, put this together back in 2011, but I just discovered it today. It's an interactive visualization of the Prelude from Bach's Cello Suite No. 1 – one of my favorite pieces of music.
Here's a video of it. You can also play with the interactive version and tangle yourself up in the strings a little.

Strings: J.S. Bach – Cello Suite No. 1 – Prelude from Alexander Chen on Vimeo.
Thanks to Jon Schwabisch for mentioning Alexander's site and making me smile.
Trust the Olympics to inspire some innovative data visualization. Thanks to friend Peter F. for the tip on a nice series of visualizations from The New York Times that compare today's winning sprinters, swimmers and jumpers with past medalists.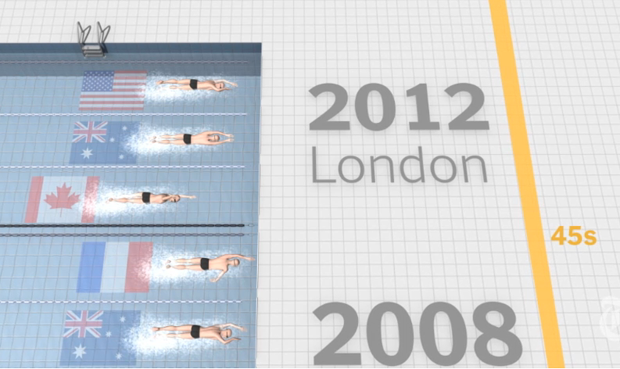 Interesting to see the steady march forward over the years in swimming and sprinting.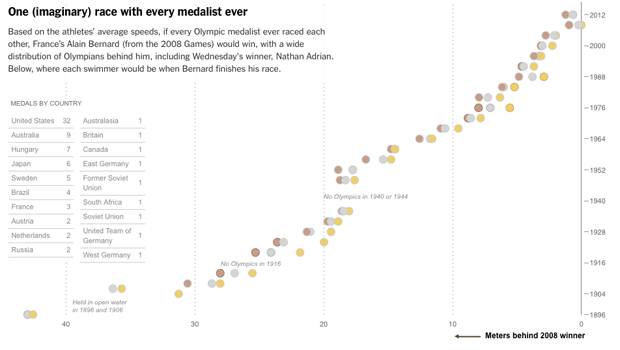 Curious that there's not a similar progression in jumping. Is that because the long jump is a more complicated venture than a pure sprint? Or just because there was only one Bob Beamon?
Filed under Data Graphics, Data Visualization, Graphs and Charts, Interactive, Video
Tags: 100m, bob beamon, long jump, new york times, nyt, olympics, sprint, swimming
You are currently browsing the archives for the Video category.