Posts Tagged 'music'
I bookmarked the Wolfram|Alpha site almost two years ago and just recently checked back. It has become quite a sophisticated resource – they call themselves a "computational knowledge engine".
For example, enter the term "27 people" to calculate how big a room you need to seat 27 people in 10 different ways. You'll also get the approximate amount of heat they will generate and the probability that two people in the group will share the same birthday.
Also handy for hangman or Scrabble (try entering "_on_u_a__ou_") or for hearing what a particular chord or scale sounds like. The D minor bebop hexatonic scale, for instance. And that's just scratching the surface. I'll have to try the iPhone app.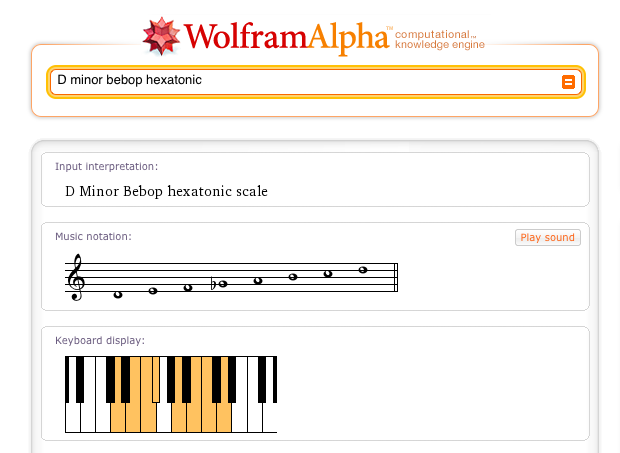 I've had my head down lately, working hard on a number of projects, so I haven't done much posting to the blog, but this put a smile on my face so I knew I had to share it.
Alexander Chen, Creative Director at Google Creative Lab, put this together back in 2011, but I just discovered it today. It's an interactive visualization of the Prelude from Bach's Cello Suite No. 1 – one of my favorite pieces of music.
Here's a video of it. You can also play with the interactive version and tangle yourself up in the strings a little.

Strings: J.S. Bach – Cello Suite No. 1 – Prelude from Alexander Chen on Vimeo.
Thanks to Jon Schwabisch for mentioning Alexander's site and making me smile.
Thanks to my watchful nephew Christopher P. for pointing me back to my Alma Mater to see this nice interactive visualization linking college majors to career choices.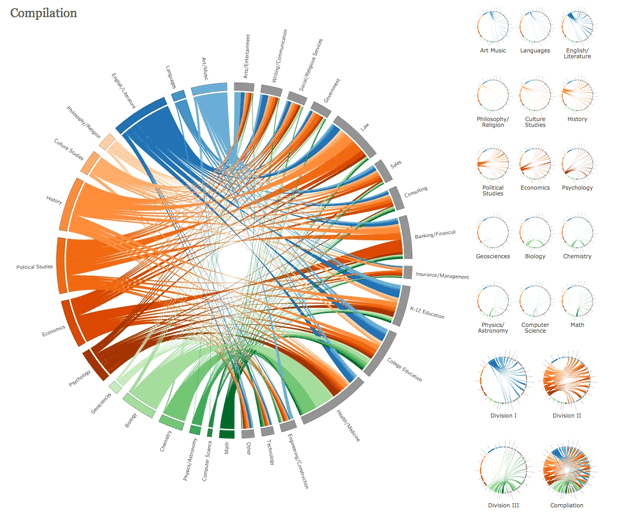 It was put together by Williams College math students and their professor using CIRCOS visualization software. Rolling over the thumbnails allows you to isolate the paths from individual majors to careers.

Nice use of colors to organize majors within larger groupings. I majored in Music (Composition) – not sure if I'm represented by the path to arts/entertainment, writing/communication or other. I've always preferred to be uncategorizable.
I'm guessing Williams, as a liberal arts school, may have a more evenly distributed set of careers than some other schools. I'd be interested to see how this same distribution looks for other schools of different types and sizes.