Posts Tagged 'linkedin'
Just discovered LinkedIn InMaps today. A good example of interactive information graphics that can lead to discovery. Interesting to find the connections that bridge groups. Like the "I didn't know Tony knew Larry!" moment.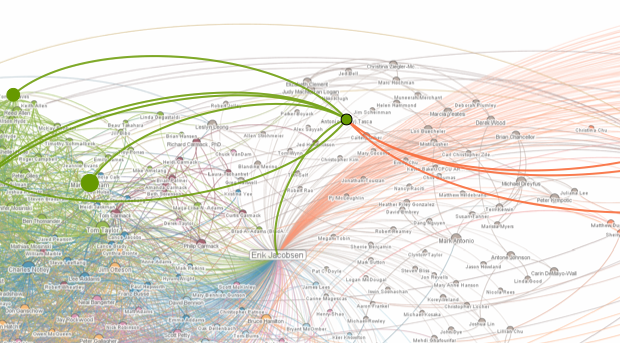 This fact would have been discoverable just browsing through my connections on the standard LinkedIn site, but seeing the whole network mapped in one place removes a lot of barriers to this kind of discovery.
The zoomed-out view shows an accurate picture of my circles – the smaller clearly defined orange is a networking group I've been closely connected to for over a dozen years, the dense multicolored cluster opposite are my various church connections, with family mixed in. In between are various work and school connections that are scattered and less well-defined.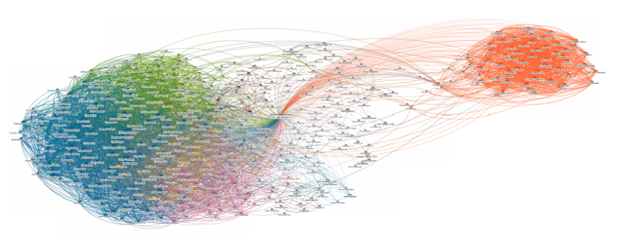 It's not hard to create your own. Try it here. I'm curious to see what other people's networks are shaped like.
Thanks to my brother for pointing me to this simple but telling graphic showing the flow of talent among the top tech companies. It was created by TopProspect and was featured recently on TechCrunch.
I like the simplicity of this, but it seemed like there was an opportunity to go a little further. Here's my take on the same data expressing the ratios visually: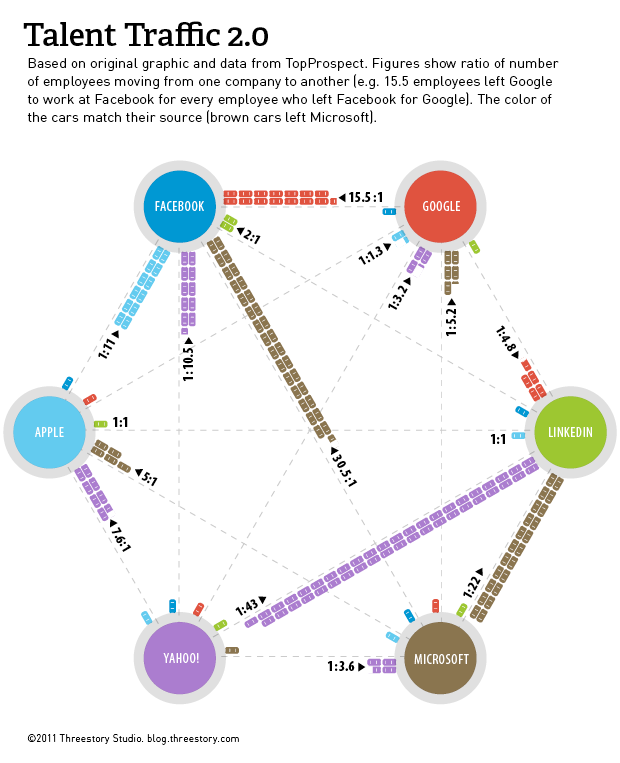 I can think of several other factors pertinent to talent flow that would be nice to show: company size (Microsoft=89,000+, LinkedIn=~1,000); revenues, age of company, geographic location, average age of employee, some gauge of talent (productivity per employee? IQ?). Then, of course, I'd like to see this all animated over time to see how the flow shifts and size changes. Anyone game?
The promised infographic résumé tool that I mentioned a few posts back has launched at Vizualize.me. It's a customizable infographic interpretation of your LinkedIn profile, to which you can add skills and other experience. Using LinkedIn to populate the infographic gives a jumpstart to the process. Seeing work experience in a timeline makes a lot of sense, though the scale of the education timeline differs from work experience in a way that gives a distorted view. See my full infographic CV: