Posts Tagged 'infographics'
MLB.com continues to push the envelope on incorporating information graphics in a multi-faceted online experience. Baseball is probably more stats-driven than any other sport out there, and MLB's Gameday capitalizes on that with more ways of looking at a game than you can shake a (Candle)stick at. They've done a fine job of incorporating color, motion, tables and graphs, along with images of the field that make you feel like a part of it all.
A stat new to me is the "nasty factor" for pitching.  According to the website, it takes into account velocity, pitch sequence, location, and movement, while adjusting for the pitcher's specific experience with the current batter. And that's just one of many stats you can explore during a game.
I wonder if the teams are using this to help them win games. Go Giants!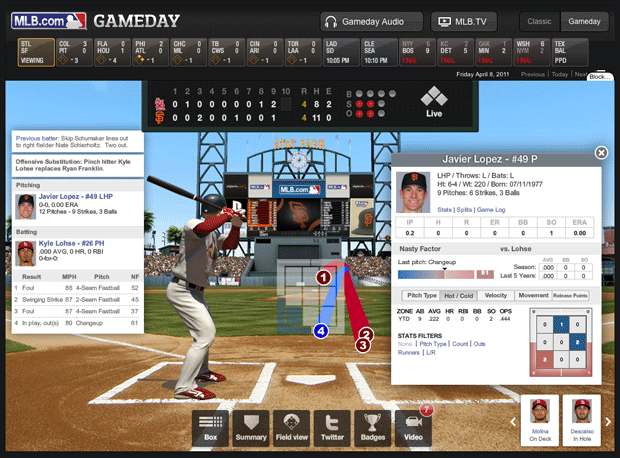 Looks like you may soon be able to create a visual version of your resume in "one click" with the help of vizualize.me. Resumes are certainly fertile ground for visual rethinking, and what job applicant doesn't want their resume to stand out from the pack?
Looks like Fast Company got access to a beta version of the software — you can see a version Ashton Kutcher's resume on their site.
We'll see how much customizing is possible once they launch. With the diversity of individual experiences and the differences among job opportunities, it seems like customized options are a must — I know I wouldn't send the same resume to two different potential employers. If this catches on, it may make it easier for employers to compare resumes, but that would lead us back to people wanting to differentiate. Maybe that's where visualize.me starts up-charging for higher levels of customization. Sounds a little like Sylvester McMonkey McBean and the racket he pulled off on the Sneetches. Are there stars upon yars?