Posts Tagged 'circular graphic'
Thanks to my nephew Christopher for bringing this infographic to my attention. According to the calculations done by the creators of the graphic (degreesearch.org), a stay-at-home mom should be paid $115,432 for her troubles, including 56.6 hours of overtime. Still a gross underestimation of the value of a full-time mother.
I like the inventive use of the circular graphic to show salary earned vs. time spent, though I needed the accompanying tables to help me figure out what was going on.  Like most good infographics, this one starts with a compelling idea and interesting data. That was enough to make me want to spend the time to understand it.
I've only shown part of it here. It's worth clicking through to see the whole thing.
Happy Mother's Day!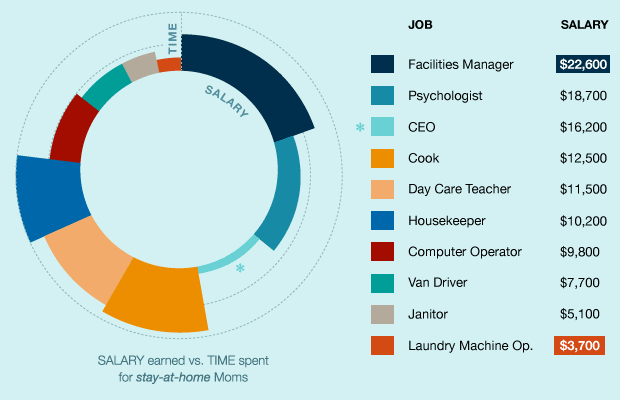 Thanks to my watchful nephew Christopher P. for pointing me back to my Alma Mater to see this nice interactive visualization linking college majors to career choices.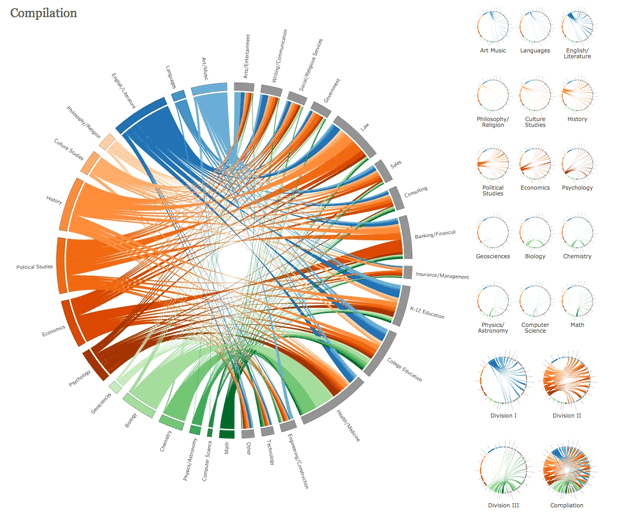 It was put together by Williams College math students and their professor using CIRCOS visualization software. Rolling over the thumbnails allows you to isolate the paths from individual majors to careers.

Nice use of colors to organize majors within larger groupings. I majored in Music (Composition) – not sure if I'm represented by the path to arts/entertainment, writing/communication or other. I've always preferred to be uncategorizable.
I'm guessing Williams, as a liberal arts school, may have a more evenly distributed set of careers than some other schools. I'd be interested to see how this same distribution looks for other schools of different types and sizes.