Putting a Price on Moms
Thanks to my nephew Christopher for bringing this infographic to my attention. According to the calculations done by the creators of the graphic (degreesearch.org), a stay-at-home mom should be paid $115,432 for her troubles, including 56.6 hours of overtime. Still a gross underestimation of the value of a full-time mother.
I like the inventive use of the circular graphic to show salary earned vs. time spent, though I needed the accompanying tables to help me figure out what was going on.  Like most good infographics, this one starts with a compelling idea and interesting data. That was enough to make me want to spend the time to understand it.
I've only shown part of it here. It's worth clicking through to see the whole thing.
Happy Mother's Day!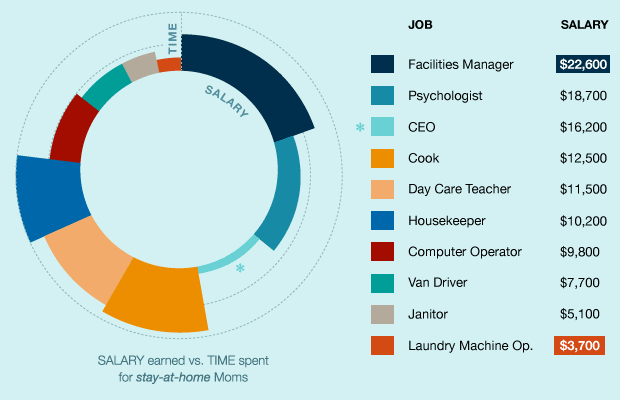 Tags: circular graphic, degreesearch.org, infographic, mom's salary, mother's day, stay-at-home moms
This entry was posted on Friday, May 6th, 2011 at 5:52 pm and is filed under Data Graphics, Data Illustration, Information Design. You can follow any responses to this entry through the RSS 2.0 feed. Both comments and pings are currently closed.
Comments are closed.