Notabilia – A Tree Grows in Wikipedia
Moritz Stefaner is a freelance designer in Europe creating some beautiful and data-rich visualizations. I came across his Notabilia project yesterday, after following a lead from someone at The Leonardo.
It maps the collective editing process for Wikipedia articles up for deletion. Right-leaning red segments are votes to delete; left-leaning green ones are votes to keep. The shape of each branch is an excellent mapping of the shape of the discussion. And the collection of 100 branches makes a lively, energetic whole that begs to be explored.
Projects like this excite me about the power of information design to bring things to light that aren't easily discernible any other way.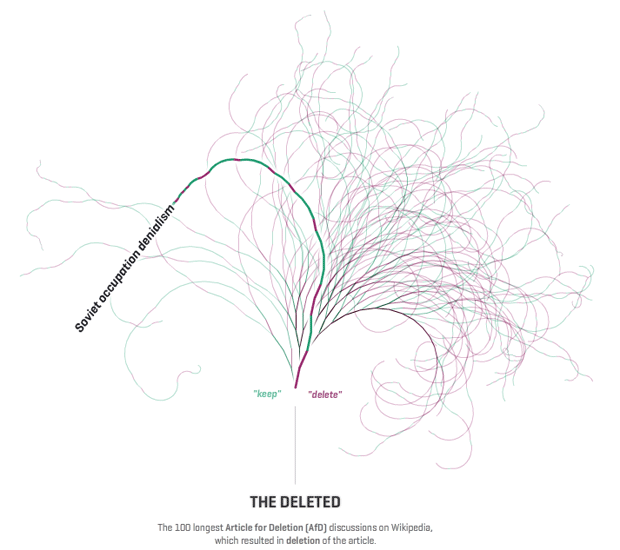 Tags: moritz stefaner, notabilia, tree, wikipedia
This entry was posted on Tuesday, May 10th, 2011 at 10:24 pm and is filed under Data Graphics, Data Visualization, Information Design, Interactive. You can follow any responses to this entry through the RSS 2.0 feed. Both comments and pings are currently closed.
One Response to "Notabilia – A Tree Grows in Wikipedia"