Posts Tagged 'vizualize.me'
The promised infographic résumé tool that I mentioned a few posts back has launched at Vizualize.me. It's a customizable infographic interpretation of your LinkedIn profile, to which you can add skills and other experience. Using LinkedIn to populate the infographic gives a jumpstart to the process. Seeing work experience in a timeline makes a lot of sense, though the scale of the education timeline differs from work experience in a way that gives a distorted view. See my full infographic CV: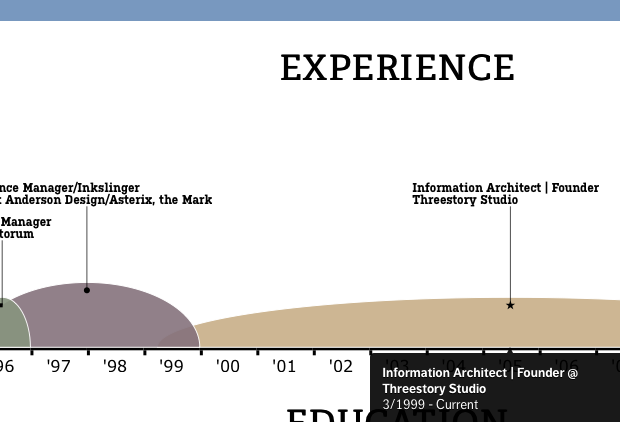 Looks like you may soon be able to create a visual version of your resume in "one click" with the help of vizualize.me. Resumes are certainly fertile ground for visual rethinking, and what job applicant doesn't want their resume to stand out from the pack?
Looks like Fast Company got access to a beta version of the software — you can see a version Ashton Kutcher's resume on their site.
We'll see how much customizing is possible once they launch. With the diversity of individual experiences and the differences among job opportunities, it seems like customized options are a must — I know I wouldn't send the same resume to two different potential employers. If this catches on, it may make it easier for employers to compare resumes, but that would lead us back to people wanting to differentiate. Maybe that's where visualize.me starts up-charging for higher levels of customization. Sounds a little like Sylvester McMonkey McBean and the racket he pulled off on the Sneetches. Are there stars upon yars?