Posts Tagged 'timeline'
Sorting through air travel options can be mind-numbing. The timeline approach at Hipmunk makes it easy to see everything you want to know about available alternatives: price, departure and arrival, length of flight, stop-overs, airlines. They have an "agony" algorithm that brings the least painful itineraries to the top. You can also sort instantly by more traditional criteria. And a quick click gives you all the details you need to know about a flight without having to go to a new page.
Well thought out, all the way around. Only gripe is the lack of Southwest Airlines options, but that's not Hipmunk's fault – you won't find them on Orbitz either.
Time to book a flight to Honolulu.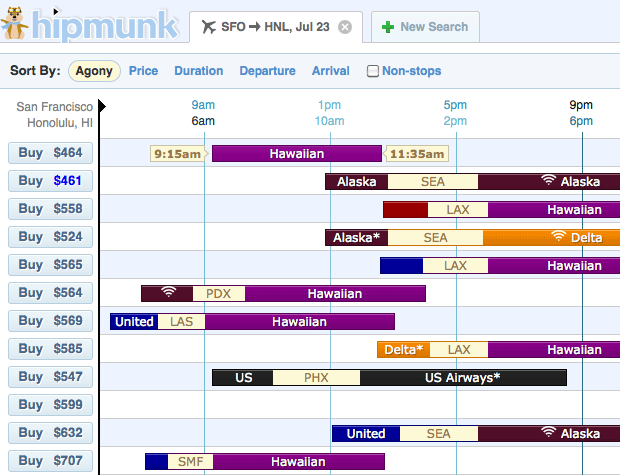 Looks like you may soon be able to create a visual version of your resume in "one click" with the help of vizualize.me. Resumes are certainly fertile ground for visual rethinking, and what job applicant doesn't want their resume to stand out from the pack?
Looks like Fast Company got access to a beta version of the software — you can see a version Ashton Kutcher's resume on their site.
We'll see how much customizing is possible once they launch. With the diversity of individual experiences and the differences among job opportunities, it seems like customized options are a must — I know I wouldn't send the same resume to two different potential employers. If this catches on, it may make it easier for employers to compare resumes, but that would lead us back to people wanting to differentiate. Maybe that's where visualize.me starts up-charging for higher levels of customization. Sounds a little like Sylvester McMonkey McBean and the racket he pulled off on the Sneetches. Are there stars upon yars?