Posts Tagged 'national geographic'
We just returned from a family trip to Europe. I first visited London in 1999. I was impressed then, and again on this visit, by the well integrated, and cohesively branded, transportation system.

This was the first time I had seen the shared bicycle system in action. We wanted to try it out, but the bikes were too big for our 7 year old, so we contented ourselves with the double-decker buses, the overground, the river boats, and the tube instead.
I found myself wondering about the flow of the bicycles around town, wishing I could get my hands on the data to see what that looked like. Do they get stacked up in one location and require redistribution? Imagine my delight when I stumbled across this nice graphic created by Álvaro Valiño for National Geographic this morning.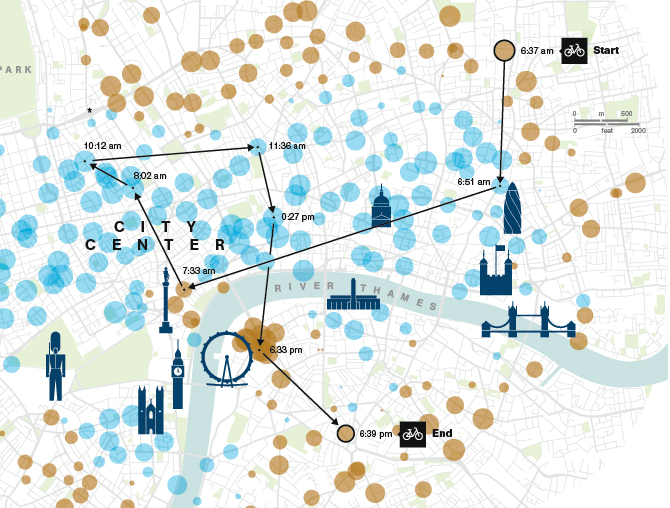 And for an encore, I discovered that Sr. Valiño also created the graphic that accompanied the article on whaling that I read just this morning (also in National Geographic). Nice work Álvaro.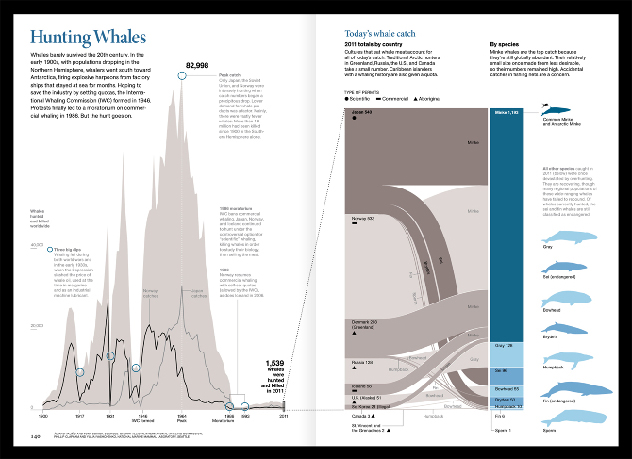 I recently taught an information design workshop to science graduate students at Stanford University. The idea was to give scientists some grounding in design principles and processes that could help them in presenting their work. They were hungry for examples and I found Juan Velasco's National Infographic blog extremely useful. Especially his post about the design decisions that went into creating a graphic for a National Geographic article on Birds of Paradise.
Thanks Juan!