Posts Tagged 'moritz stefaner'
Here's a nice interactive example of making data friendly to the average human. What country would you like to live in? With the OECD Better Life Initiative, you can pick what you care about (Environment, Work-Life Balance, Health, etc.) and see which countries rise above the rest. Another interactive wonder from the brain of Moritz Stefaner. He's the same designer who created the Notabilia Wikipedia project that I posted about a while back. Looks like it's time for me to move to Australia.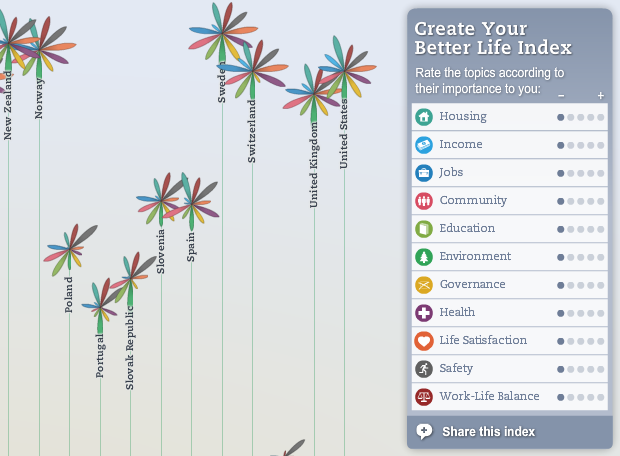 I recently discovered Data Stories, a podcast devoted to data visualization hosted by Moritz Stefaner and Enrico Bertini. I have been listening daily in the car on my way from here to there and have made it up to Episode #7 – Color. I think I've found my tribe.
Moritz Stefaner is a freelance designer in Europe creating some beautiful and data-rich visualizations. I came across his Notabilia project yesterday, after following a lead from someone at The Leonardo.
It maps the collective editing process for Wikipedia articles up for deletion. Right-leaning red segments are votes to delete; left-leaning green ones are votes to keep. The shape of each branch is an excellent mapping of the shape of the discussion. And the collection of 100 branches makes a lively, energetic whole that begs to be explored.
Projects like this excite me about the power of information design to bring things to light that aren't easily discernible any other way.