Posts Tagged 'markus covert'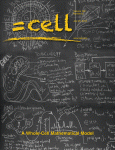 The big news is that Dr. Markus Covert and his lab at Stanford have created an integrated computational model of a cell. Their work was featured in a recent issue of Cell magazine and a New York Times article and could lead to big things.
The side news is that the artwork Dr. Covert enlisted us to create was accepted by Cell magazine and featured on the cover. You can see a larger version of the winning cover by clicking on the thumbnail image above. It's a composite image of chalkboard diagrams and formulas relevant to what went into creating the cell model (artist: Dr. Markus Covert).
One of our favorite images that didn't make the cut was a pseudo cell we created from a mixture of traditional lab supplies and computing accessories. Many thanks to Bernard André for the excellent photography work.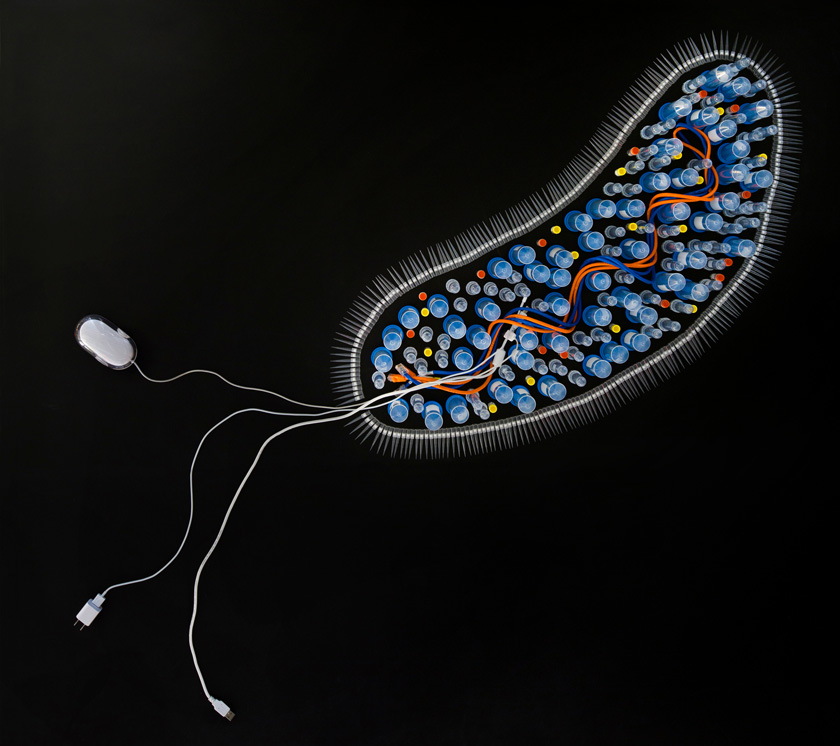 Dr. Markus Covert's lab commissioned Threestory Studio to create cover art again for another Cell Magazine article. This time, the article had to do with the ability to track protein activity in a single cell. To quote the article summary: "Our technology converts phosphorylation into a nucleocytoplasmic shuttling event that can be measured by epifluorescence microscopy." Got it? Good.
Since the technology involves lighting up parts of a cell, a little light painting seemed in order. We found a nice stage with an already-lit circular cell membrane in the courtyard of the Clark Center building that houses Dr. Covert's lab. Lab members formed the nucleus and Dr. Covert's two young children did the running around, impersonating reporter proteins with colored LED flashlights. You can see here the version we submitted, mocked up in the Cell template ("ERK" stands for extracellular-signal-regulated kinases).
The recent discussion on DataStories about Data Art with Jer Thorp resonates with this kind of "science art". I recommend giving the podcast a listen.
Here are a few additional shots of light painting I attempted after the lab members had left. I got a few curious looks from passersby, watching me wave flashlights around. In the middle of an empty courtyard. Late at night. Alone.
I love my job.