Posts Tagged 'egypt'
This week, my sister tipped me off about The Atavist, a new take on multi-layered storytelling via iPhone or iPad apps (also available on Kindle and Nook). Threestory Studio got its name in part because of my interest in telling stories visually, so I was intrigued to see what The Atavist had to offer.
One of the first things I discovered was a rich infographic showing the events leading up to the fall of the regime in Egypt. It combines a timeline of events with web traffic data and social media engagement in Egypt.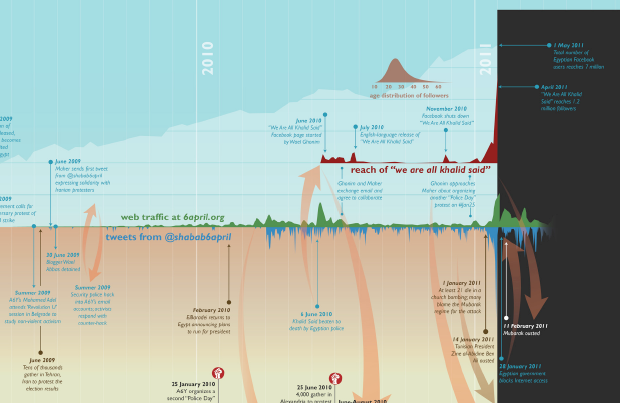 It wasn't immediately clear what the black bars rising from the bottom were – they appear to indicate numbers of people involved in protests or revolutionary activities. Otherwise, this graphic receives high marks.
The full graphic can be downloaded here. It was created by Erik Steiner of the Spatial History Project at Stanford University.