Global Connections

I keep meaning to post about some recent data visualization work from Threestory Studio that formed an integral part of Santa Clara University's President's Report. The design firm Cuttriss & Hambleton did a great job with the overall design of the report while we focused on the infographic components.
The spread featured here highlights SCU's global reach, showing the inflow of international students who study at the university and the outward reach of students who leave to study abroad during their time at SCU. A third layer of global connectivity shows the affiliated Jesuit institutions scattered across the world. It all serves to give you the sense that this is a place that is anything but provincial.
You can see the whole report in a handy PDF viewer (here's a screenshot). Clicking on this image will show you a large scale version of the illustration itself.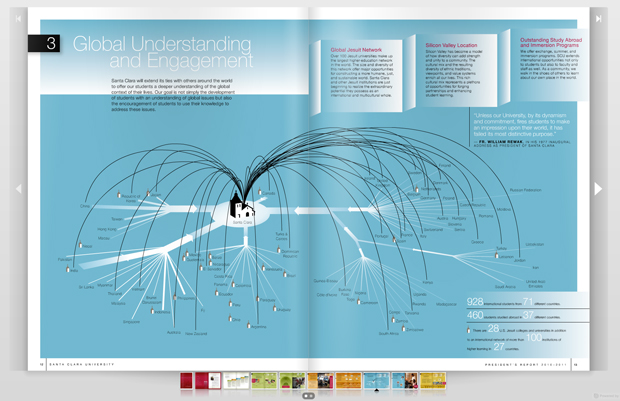 Tags: global reach, infographic, president's report, santa clara university
This entry was posted on Tuesday, March 20th, 2012 at 11:57 am and is filed under Data Graphics, Data Illustration, Infographics, Information Design, Maps. You can follow any responses to this entry through the RSS 2.0 feed. Both comments and pings are currently closed.
Comments are closed.