Time(line) Travel at Hipmunk
Sorting through air travel options can be mind-numbing. The timeline approach at Hipmunk makes it easy to see everything you want to know about available alternatives: price, departure and arrival, length of flight, stop-overs, airlines. They have an "agony" algorithm that brings the least painful itineraries to the top. You can also sort instantly by more traditional criteria. And a quick click gives you all the details you need to know about a flight without having to go to a new page.
Well thought out, all the way around. Only gripe is the lack of Southwest Airlines options, but that's not Hipmunk's fault – you won't find them on Orbitz either.
Time to book a flight to Honolulu.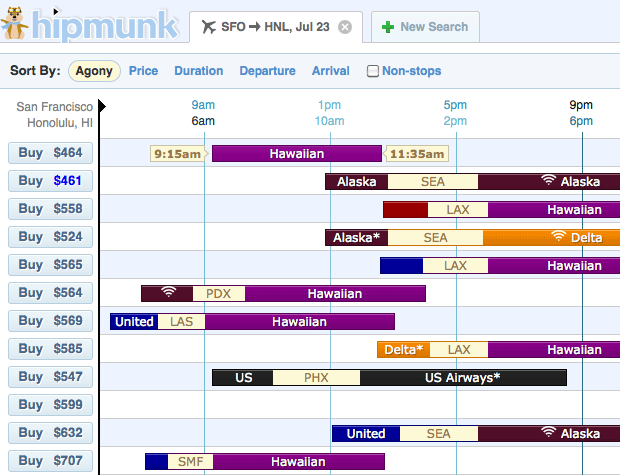 Tags: air travel, airline search, hipmunk, timeline, user interface
This entry was posted on Tuesday, June 28th, 2011 at 9:04 am and is filed under Information Design, Interactive. You can follow any responses to this entry through the RSS 2.0 feed. Both comments and pings are currently closed.
Comments are closed.